chocolate breakfast bread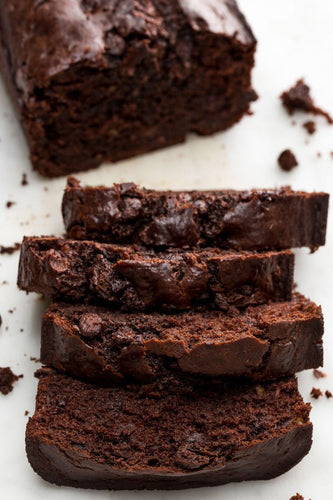 Not
strictly just for breakfast, but this
gluten-free and 100% vegan riff on banana bread is a lovely way to start a day.
Ingredients:
1 sachet of nuut (whichever blend you prefer)
2 flax eggs (2 tablespoons ground flaxseed meal + 6 tablespoons filtered water)
1/4 cup unrefined coconut sugar
1 1/4 cups super-fine almond flour
1 heaped cup dark chocolate - chopped
What to do:
1. Preheat oven to 175c and line a bread pan with parchment paper.
2. Add flax egg (flaxseed and water) and bananas to a large mixing bowl and mash to combine. Allow the mixture to gel for about 5 minutes.
3. Add coconut sugar and tahini and whisk vigorously to combine. Add nuut and mix again to combine.
4. Sift in the oat and almond flours, and baking powder and stir to combine. The batter should be thick and scoopable– not runny!
5. Fold in half of the chopped dark chocolate.
6. Spoon the batter into the parchment-lined loaf pan and spread to form an even layer. sprinkle the remaining chocolate chunks on top.
7. Bake on the centre rack for 45-55 minutes, or until the bread is firm to the touch and slightly golden around the edges.
8. A toothpick inserted into the centre should come out clean. Allow the bread to cool completely before slicing and serving.
9. store leftovers in the refrigerator for up to one week and freeze for long term storage.