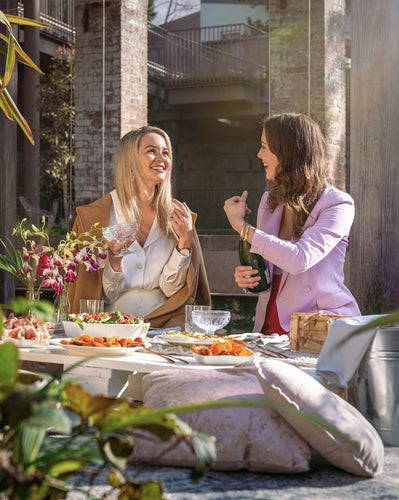 here's exactly what you will want to eat (that isn't a sizzling pile of bacon)
nutritional-savvy sisters Helena and Alexandra Sauzier from @sauzyeats
dish up their favourite keto-friendly substitutes. Pizza, waffles or burgers anyone?
nuut: why do you follow modified keto and not strict keto?
Alexandra Sauzier (A): Strict keto can be super challenging. I worked for Dr Michael Mosley and learnt a lot about modified keto which is a style of eating he preaches. We're not fans of the crazy high-saturated fat that comes with strict keto. Too much bacon and butter are an extreme! You can't eat processed food every day - it takes a toll on the liver. It should be more about plant-based food.
nuut: Do youever indulge?
A: The more modified style of keto is a healthier and more realistic way of eating, and luckily there are many keto-friendly alternatives. Our favourite is waffles using a protein base that we add egg, water and milk to, and cook in a waffle machine. It's amazing served with bacon and peanut butter. We love it on a Sunday night for dinner.
Helena Sauzier (H): I love zoodles using zucchini or pumpkin. It's the keto-friendly alternative to pasta and I serve it with Bolognese sauce. Also instead of rice, we make cauliflower rice and serve it alongside curries. The secret is to prepare it on the stovetop and cook it very slowly. I add lots of butter and saffron when teaming with Indian food. You genuinely can't tell the difference. I love to test my friends!
"The more modified style of keto is a healthier and more realistic way of eating."
nuut: There seems to be keto-friendly vegetables and not so suitable ones?
A: There is so much confusion around vegetables when it comes to keto. The best veggies for this diet are the non-starchy ones like broccoli, tomatoes, zucchini, and dark leafy greens. We avoid starchy types like potatoes, corn and beans.
nuut: Do you eat grains?
H: Because we follow a modified keto diet we do have wholegrains, like quinoa and barley, a couple of times a week. Both are banned on a strict keto diet, but from a gut and fiber perspective, we think it's important to eat them.
nuut: What about alcohol?
A: From a dietary perspective, we eat really clean, but alcohol is our downfall so we have to watch our intake – it's just so detrimental! We have definitely improved and have more days off now than before. If I go out, I limit myself to 2 drinks per night and we try and stick to lighter options. Sugary mixers and cocktails are the worst, so we avoid them completely. I might have a couple of wines and then switch to vodka. Setting boundaries helps draw the line.
nuut: What do you order when you eat out?
H: I allow myself once a week to eat whatever I want. I love Italian food and if homemade gnocchi is on the menu, I'm not going to say no! Otherwise, I choose veal, polenta, cured meat or a main, instead of pizza or pasta.
nuut: what is a favourite Keto swap you like to make at home?
A: We love cooking keto at home and post our creations on our Instagram @sauzyeats. Cauliflower-based pizza is great but super intensive to make. Cauliflower can be quite messy to use, so we buy frozen cauliflower rice that's already made and easier to handle. Ready-made pizza protein also makes it super simple.
H: I love making my special cheesy burger buns! They're the best. It's basically a burger bun made from cheese and egg. I fill it after with meat, tomato and lettuce. So delicious. Honestly, there's nothing that can't be made without refined carbs. And the best news it's better for you and the taste is not lost. Keto is a game changer.
Ingredients:
2 tbsp ground psyllium husk powder
½ tsp onion powder (optional)
1⁄3 cup melted coconut oil
coconut oil, for frying (optional)
What to do:
1. Mix all dry ingredients in a bowl. add oil and boiling water (hold some of it back in case it's not needed) and stir thoroughly.
2. Allow to rise for five minutes. The dough will turn firm fairly quickly, but stay flexible. it should resemble the consistency of play-doh. If you find it's too runny then add more psyllium husk until it feels right. If it's too firm, add some of the remaining water. The amount needed may vary depending on what brand of husk or coconut flour you use.
3. Divide into 6 or 8 pieces and form into balls that you flatten with your hands directly on parchment paper or on the kitchen counter.
4. Fry rounds in a skillet over medium heat until the naan turn a nice golden colour. Depending on your skillet you can add some coconut oil to it so the bread doesn't stick.
5. Heat the oven to 140°f (70°c) and keep the bread warm while you make more.
6. Melt the butter and stir in the freshly squeezed garlic. Apply the melted butter on the bread pieces using a brush and sprinkle flaked salt on top.
7. Pour the rest of the garlic butter in a bowl and dip pieces of bread in it.
Ingredients:
1 cup shredded mozzarella
½ cup grated parmesan
2 large free-range eggs
What to do:
1. Combine ingredients and any seasonings.
2. Place 4 (for cheese buns) or 1 (for pizza) mound on a parchment aper or silicone mat-lined baking sheet.
3. B
ake 350f for 15 – 20 mins.
Makes 4 buns or 1 pizza dough