deliciously moreish recipes we can't get enough of
In uncertain times, nothing satisfies and comforts like good food. Whether you are back at work, zooming, wrangling toddlers or have a glut of spare time on your hands, here is a day's worth of recipes that are a cinch to toss together. Not only are they seriously delicious, but insanely healthy too.
Ingredients:
1 cup nuut (any blend)
3 cups organic rolled oats
1 cup chopped raw nuts (we like almonds, pecans, and/or walnuts)
1/4 cup shredded coconut
2 tablespoons chia seeds
3 tablespoons coconut sugar
1 teaspoon sea salt
1/4 cup coconut oil
½ cup maple syrup
What to do:
1. Preheat oven to 170 C.
2. Add nuut, oats, nuts, coconut, chia seeds, coconut sugar and salt to a bowl and stir well to combine.
3. In a small saucepan over medium-low heat, warm the coconut oil and maple syrup until melted. Pour over the dry ingredients and stir well.
4. Spread the mixture evenly onto a baking sheet (or more baking sheets if making a larger batch) and bake for up to 25 minutes or until fragrant and deep golden brown (keep a close eye though – it can burn quickly). Stir around halfway point to ensure even baking.
5. Let granola cool completely. Place in a container that has an air-tight seal, and it should keep for a few weeks. Or store in the freezer up to 1 month or longer.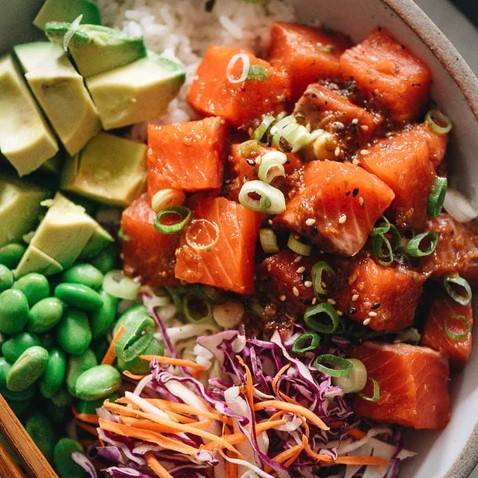 Ingredients:
1 1/2 cups sushi rice
2 teaspoons white sugar
1/4 cup rice wine vinegar
1/4 cup salt-reduced soy sauce
1 teaspoon wasabi Paste
2 teaspoons honey
300g sashimi-grade salmon, cut into 2cm cubes
2 green onions, thinly sliced
1 tablespoon sesame seeds, toasted
1 large avocado, thinly sliced
1 Lebanese cucumber, very thinly sliced
2 cups shredded red cabbage
Sliced red chilli, to serve
Lime wedges, to serve
What to do:
1. Cook rice following packet directions and spread over a baking tray. Cool for 5 minutes. Combine sugar and 1/2 the vinegar in a bowl. Drizzle over rice. Using a spatula, lift and turn rice until combined. Cool for 20 minutes.
2. Combine soy sauce, wasabi, honey and remaining vinegar in a large ceramic bowl, stirring until honey dissolves. Add salmon. Gently toss to coat. Cover with plastic wrap. Refrigerate for 15 minutes, tossing halfway.
3. Add onion and sesame seeds to salmon. Toss to combine. Divide rice among bowls. Top with salmon mixture, avocado, cucumber and cabbage. Serve with chilli and lime.
Ingredients:
1 sachet nuut (whichever blend you wish)
1/2 frozen ripe banana (chopped prior to freezing)
1/3 cup frozen blueberries
2 tablespoon almond butter
1 cup filtered water
1 pitted date
1/3 cup ice
What to do:
1. Place ingredients in a blender and whizz until velvety smooth.
nuut espresso sunset smoothie
Ingredients:
2 teapsoons nuut (any blend)
2 teapsoons espresso
1 frozen banana
1/2 cup coconut milk
1/2 cup freshly brewed coffee - cooled
1 tsp. organic honey
1/8 tsp. ground cinnamon
toasted coconut chips for garnish
What to do:
1. Place ingredients in a blender and process until smooth. Garnish with coconut chips and a paper umbrella. Hello sunset hour!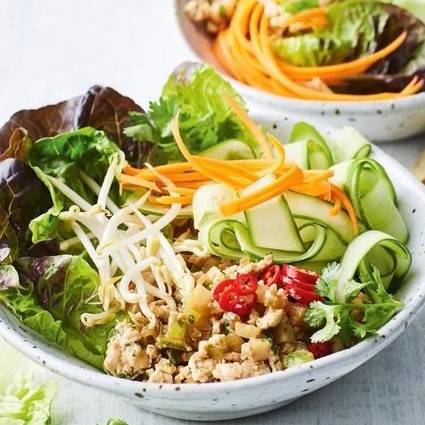 Ingredients:
2 teaspoons sesame oil
1 onion, finely chopped
2 celery sticks, diced
2 garlic cloves, crushed
2 teaspoons finely grated fresh ginger
500g free range chicken or turkey mince
225g can water chestnuts, drained, chopped
1 tablespoon oyster sauce
1 tablespoon tamari
2 baby gem lettuces, trimmed, leaves separated
1 large carrot, peeled, shredded
1 Lebanese cucumber, thinly sliced into ribbons
2 cups trimmed bean sprouts
Fresh coriander leaves, to serve
Sliced chilli, to serve
What to do:
1. Heat oil in a large wok over high heat. Stir-fry onion and celery for 2 minutes or until softened. Add garlic and ginger and stir-fry for 1 minute or until fragrant.
2. Add mince and stir-fry, breaking mince up with a wooden spoon, for 3-4 minutes or until golden. Add water chestnuts, oyster sauce and tamari and stir-fry for 1 minute or until heated through.
3. Divide gem lettuce leaves, mince mixture, carrot and cucumber between bowls. Serve topped with bean sprouts, coriander and fresh chilli.
Want to try other delicious recipes? We put creative spins on dishes we already love—curries, spaghetti and noodles with our new reset plan.