the delish recipe we are making over and over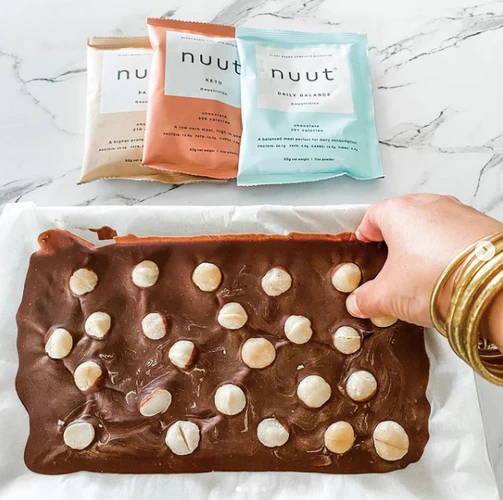 Got chocolate on the brain? Same. The Easter bunny may have come and gone but the cravings linger, so we're putting ever-versatile nuut to work. Created by nuut-loving nutritional expert Kristen Pavez, this delicious nutty treat smashes our longings and is super healthy too. Sweet.
macadamia protein chocolate
1 sachet nuut (any blend)
4 tbsp raw cacao
8 tbsp of coconut oil
4 tbsp almond butter
2 tbsp maple syrup
Toppings:
2 handfuls of raw macadamias
2 handfuls of goji berries
Place water in a pot and heat until simmering.
Place large bowl over the top and add coconut oil and maple syrup.
Stir until melted with a spatula.
Add remaining ingredients and whisk until combined.
Pour onto a lined baking tray or plate or into chocolate moulds) and sprinkle with toppings
Place in the freezer to set.
Break into shards or pop out of moulds and serve.
Via Kristen Parez