All our favourite desserts contain this one ingredient.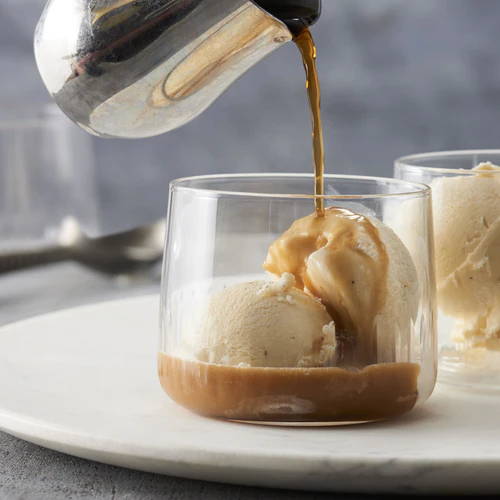 If the words rich, indulgent, and downright chocolatey appeal to you, then you'll love every one of these nuut-pimped recipes.
nuut affogato
We have all the bases covered here. Use a really good quality ice-cream or gelato, and play with different liqueurs, like aged dark rum. Yum (hiccup).
2 tbsp nuut (any blend)
1 or 2 scoops of chocolate gelato
1 double espresso
1 tbsp Frangelico, Nocello or similar
Place one or two scoops of gelato in each coffee cup.
Spoon the espresso and liqueur over the top, scatter with nuut and serve immediately.
Experiment to get the right ratio of ice-cream to cup size, and to strike the right balance between hot and cold, bitter and sweet. The gelato's sweet richness should be balanced by the strength of the coffee, the deliciousness of the nuut, and the kick of the booze.
Serves 1.
chocolate dessert cake
We serve this with a big dollop of dairy-free vanilla ice-cream.
1 sachet nuut (any blend)
1 ¾ cups flour (barley, wholemeal spelt, wholewheat pastry or gluten-free)
1 ¾ cups raw sugar
¾ cup cocoa powder
¾ cup chickpea flour
1 teaspoon baking soda (bicarbonate of soda)
½ teaspoon baking powder
pinch of salt
¾ cup oil (olive, sunflower or melted coconut) or apple purée
¾ cup water
1 ½ – 2 cups grated zucchini
2 teaspoons vanilla extract
Preheat oven to 375F (175C) and grease and flour a large Bundt pan or muffin tins.
In a large bowl, combine flour, sugar, cocoa, chickpea flour, bicarb soda, baking powder and salt. Mix and until evenly combined ensuring all lumps are broken down.
In a separate mixing bowl, combine the oil, water, zucchini and vanilla. Add this to the dry ingredients, stirring until no traces of flour remain.
Pour into Bundt tin and bake for around an hour, or until the top is firm and the knife comes out with a couple of moist crumbs (not batter) when put through the middle of it (around 60 minutes). Leave to cool for 10 minutes, then run a knife around the outside and invert onto a plate. Leave the Bundt tin on top while it cools.
When cooled down, decorate with berries and serve with coconut yogurt or dairy-free ice-cream.
Note: For muffins, bake for 20 to 25 minutes. This recipe makes 24 muffins or 1 Bundt cake.
choc mint
The perfect sugar craving crusher. Mint makes it extra addictive.
1 sachet nuut
1 sprig fresh mint
300ml almond milk
Ice
Topping
1 square dark chocolate
Blitz nuut, almond milk, mint leaves and ice in a blender until super smooth.
Shave or grate dark chocolate on top and serve.
Serves 1.
ben and jerry's nuut york super fudge chunk ice cream
tastes just like the iconic flavour, but with a big dose of plant-based goodness.
64 g nuut (any blend)
2 x 400-ml cans coconut cream (chilled overnight in the fridge)
450g pitted dates (if not moist, soak in warm water for 10 mins and drain)
1 teaspoon pure vanilla extract
120ml almond milk
white and dark fudge chunks
pecans, walnuts and almonds – chopped roughly
place a large mixing bowl in the freezer to chill for 10 minutes.
in the meantime, add moist, pitted dates to a food processor and blitz until small bits remain. then add hot water a little at a time until it forms a thick paste. set aside.
without tipping the cans, scoop out the coconut cream from the cans of coconut cream, reserving the clear liquid for other uses. place in chilled mixing bowl.
using a mixer, whip until creamy and smooth. then add nuut, vanilla, almond milk, and half of the date paste. whip until fully incorporated.
taste and adjust flavours as needed. add nuts and fudge and stir to combine.
transfer mixture to a parchment-lined freezer-safe container and cover loosely with plastic wrap, then foil to help freeze.
you can take this out in a couple of hours for a chilled mousse-like ice cream. freeze overnight for a firmer ice cream.
set out for at least 20 minutes prior to scooping, and use a scoop warmed under hot water for a proper scoop.
keeps in the freezer for up to one week, but best when fresh.
nuutela
just as addictive as the original. just better for you.
1 scoop nuut (any blend you wish)
1 cup hazelnuts - roasted
2 tablespoons cacao powder
½ cup brown rice syrup
2 teaspoons vanilla extract
1 teaspoon cinnamon
2 tablespoon coconut oil, melted
sea salt
place nuts in a food processor and blend until smooth.
combine with nuut, cacao powder, brown rice syrup, vanilla and 1 tablespoon coconut oil.
put in nutribullet and blend, adding rest of coconut oil as required until smooth.
stir in pinch of sea salt to taste.
store in a glass jar in the fridge.
makes 1 jar
serve liberally ….
with a spoon. straight from the jar.
blended in a smoothie.
stirred in coffee.
on top of waffles or pancakes.
spread on toast.
on pear or apple wedges.
as frosting on a cake.
between layers of a cake.
drizzled over porridge.
on celery sticks.
between layers of trifle.
in a chocolate cocktail.
popped atop hot chocolate.