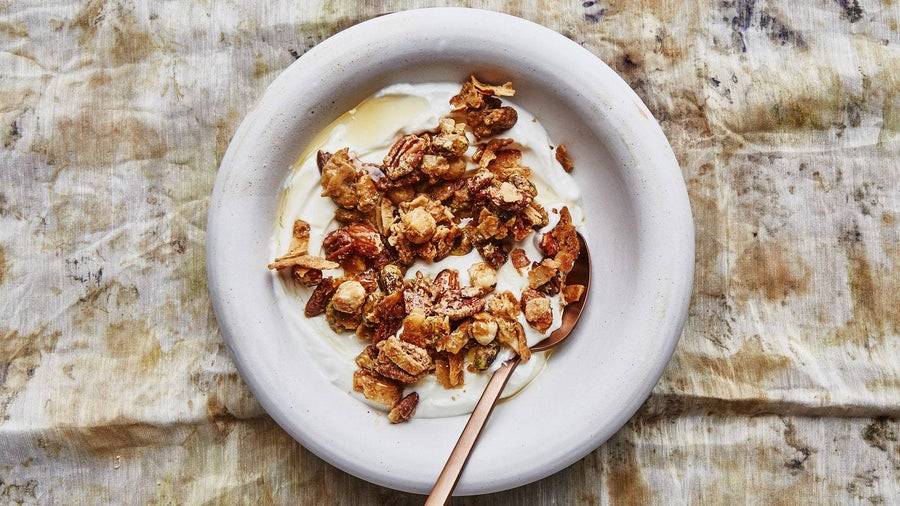 our version of granola is what every other granola wishes it could be—nutty, chocolatey, and perfectly salty-sweet.
it's lovely served with almond milk, or great out of hand. for added protein, serve over yogurt or layer over a bowl of stewed fruit and toast until golden under the grill.
crunchy nuut granola
ingredients:
1 sachet of nuut
3 cups organic oats
1 cup chopped raw nuts (we like almonds, pecans, and walnuts)
1/4 cup shredded coconut (unsweetened)
2 tbsp chia seeds
3 tbsp coconut sugar
1 tsp sea salt
1/4 cup coconut oil
1/2 cup organic maple syrup
1/2 cup dark chocolate chunks

toppings:
Organic peanut butter (optional)
Blueberries (optional)
Pumpkin seeds (optional)
½ banana (optional)
what to do:

1. preheat oven to 340 degrees f (171 c).
2. add nuut, oats, nuts, coconut, chia seeds, coconut sugar, and salt to a processer and pulse a few times.
3. in a small saucepan over medium-low heat, warm the coconut oil and maple syrup until melted and combined. pour over dry ingredients and pop in a food processor. blitz very briefly.
4. spread the mixture evenly onto a baking sheet and bake for up to 25 minutes (or until fragrant and deep golden brown), stirring near the halfway point to ensure even baking.
5. let cool completely. add chocolate and place in an air-tight container. it should keep for a few weeks. or store in the freezer up to 1 month or longer.
note: prefer your granola in crunchy little clusters? beat an egg white and toss it in too. it acts as a binder to form perfect little chunks.