how I got my family off sugar and cravings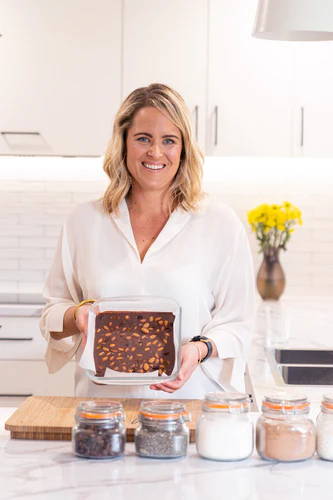 Cooking for a busy family can be a struggle at the best of times. We wanted answers so grilled Whole Food Educator Kristen Pavez for all the intel on sugar addiction, finicky eaters and how to handle the "I'm still hungry's"….
Read on, take notes and thank us later.
nuut (n): tell us about your family's daily routines?
kirsten pavez (kp): I go to the gym at 6am, walk the dog, and get the kids ready for school. I work from home until pick-up, and then we have a huge afternoon tea (they are two very active boys aged 8 and 9!), and then we do sports, homework, and have dinner. I love to relax and go to bed early so I have the energy to do it all again the next morning 😂
n: what is your biggest challenge fitting it all in?
kp: My biggest challenge is making sure everyone's needs are met and they are happy! My husband and I exercise a lot, and our kids do too, so it's a juggle making sure we are all getting to do what we want to do, and not overcommitting at the same time. Time is always a challenge. I find the weekdays are so busy with work, school and sport commitments, and the weekends don't get much better because of weekend sport, and social commitments.
n: what do you eat in a day?
kp: I start the day with a bullet proof coffee - 1/2 tsp of MCT oil, 1/2 tsp of ghee frothed with black coffee. After the gym, I have a celery and beetroot juice, followed by a Paleo nuut to restore my protein levels. At around 11am, I make poached eggs and paleo toast or gluten-free sourdough, with avocado, rocket and homemade sauerkraut on the side. Sometimes I have a mid-afternoon snack - either some fava beans, veggie sticks, a piece of fruit or some nuts. Dinner is always early and varies from night-to-night. Last night we ate roasted cherry tomato, vegan cheese and basil sauce served over legume pasta.
n: what do you kids generally eat in a day?
kp: Breakfast is either porridge with lashings of nut butter, cinnamon and Greek yoghurt, or a green smoothie packed with nuut, good fats, and fresh leafy veggies. Morning tea is a homemade slice, fruit and some rice crackers. For lunch, it's a sandwich with cheese, grated carrot and lettuce, or Vegemite and cheese. After school they snack on fruit, cheese and rice crackers, nuts, celery and peanut butter, carrots and hummus, green smoothie, banana smoothie (but not all at once!). After dinner they love yoghurt and nuts.
n: do you have any struggles around their diet?
kp: Yes! They have been drinking green smoothies since the age of 2, and up until last year they wouldn't eat meat, at all. I used to supplement their protein intake heavily with other plant-based sources of protein. They were also super fussy and would only eat starchy stodgy foods like pasta and rice with melted cheese and side of vegetable sticks.
n: for fussy eaters, what are your best tips for making sure they get what they need?
kp: Keep trying! Children need to see things on their plates 7-10 times before they start to eat some foods. Last year I got my kids involved in cooking, and they eat everything they make! I also like to devise a weekly meal plan including fun dinners like meat-free Monday and taco Tuesday.
n: what about sugar? is sugar addiction a real thing?
kp: Sugar addiction is real, and I know because I was completely hooked on sugar and used to consume a block of family sized chocolate every night. Sugar is addictive - it effects our brains and makes us crave more.
n: how can we fix a sugar addiction, especially with kids?
kp: I've found that by serving sugar with fats it keeps the kids satiated longer, and it helps avoid sugar spikes. Apple slices with peanut or almond butter are a great go-to.
n: what is the best thing for kids to eat in-between meals?
kp: I always offer my boys snacks that contain protein and good fats so that it satiates them and doesn't leave them wanting more. Or if they have high carb or high sugar foods, I throw in some good fats. Our favourite go-to's are nuts, seeds, Fava beans, fruit slices with nut butter, and peanut butter toast.
n: how do parents know if their kids aren't get the right nutrition?
kp: In my experience, I know things aren't right when they were complaining of sore tummies, have lots of mucous congestion, and crave sugar.
n: why do you take nuut?
kp: nuut is packed with minerals, vitamins, protein, good fats, prebiotics and probiotics. I love how it tastes and how quick it is to make. It makes me feel satisfied, and satiated, and I feel great after having it.
It makes me feel great - I feel great after it, and love that I don't need to have any time to prepare it.
n: how do you like your nuut made?
kp: I love it straight up with ice cold almond milk or in my green smoothie or in my Chocolate Mint Protein Balls.
Recipe here