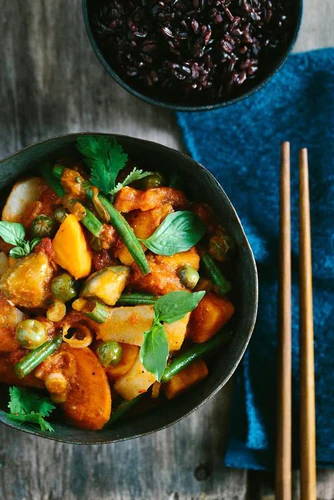 We're kicking 2020 to the curb! renuut is an exclusive 28 day workout and plant-based meal plan of deliciously healthy recipes designed to help you get lean, feel lighter and glow. Team pick?
Our Jungle Curry - it busts weeknight stress at the end of a long workday.
1 cup uncooked jasmine rice
1 (12-ounce) package extra-firm tofu, drained and cut into 1/2-inch cubes
2 tbsp canola oil, divided 2 cups (2-inch) cut green beans
1 small eggplant, cut into 1/2-inch cubes (about 4 cups)
1 red bell pepper, cut into julienne strips
2 tbsp green curry paste
1 cup organic vegetable broth
3 tbsp lower-sodium soy sauce
2 tsp brown sugar
2 tsps grated lime rind
1 cup thinly sliced fresh basil Lime wedges (optional)
Cook rice according to package directions, omitting salt and fat.
Place tofu on several layers of paper towels, and cover with additional paper towels. Let stand for 5 minutes, pressing down once.
Heat a large non-stick skillet over medium-high heat. Add 1 tablespoon oil to pan and swirl to coat.
Add tofu, sauté for 4 minutes or until lightly browned, stirring occasionally. Remove from pan; keep warm.
Wipe pan clean with a paper towel and return pan to medium-high heat.
Add remaining 1 tablespoon oil; swirl to coat.
Add green beans, eggplant, and bell pepper and sauté for 3 minutes, stirring occasionally.
Add curry paste cooking for 30 seconds, stirring frequently.
Add broth, soy sauce, sugar, and rind then cook for 5 minutes, stirring occasionally. Add reserved tofu and cook for 1 minute.
To serve, place 1/2 cup rice in each of 4 shallow bowls. Top each with about 1 ½ cups tofu mixture and ¼ cup basil. Serve with lime wedges.
Try the full renuut plan
here