the 28-day plant-based keto plan that's absolutely doable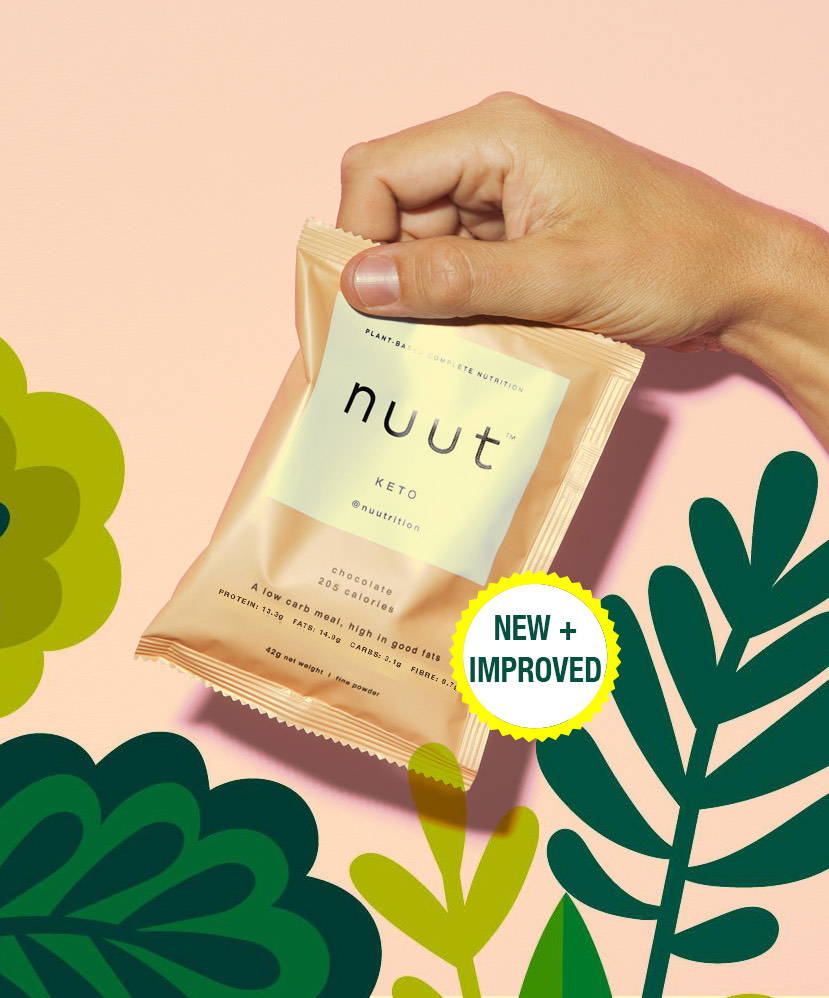 the classic keto diet consists entirely of animal-based products and largely dodges most fruit and vegetables. a plant-based diet strictly avoids all animal-sourced products and focuses on plant-based foods like fruits, vegetables, nuts, seeds, legumes, and grains.
if you're a committed plant-based combining the two may sound impossible.
whether you are into the underlying scientific evidence or simply want to give keto a whirl, nuut makes it easy and fun to kickstart a ketogenic lifestyle.
designed around daily nuuts and delicious, plant-based foods, nuut's new keto plant-based meal plan makes combining the two simple and effective.
one of the biggest challenges with meal plans is they limit the creativity and imagination that is the enjoyable part of following a restrictive diet.
nuut plant-based keto is packed with 22 delicious nutritionist-approved plant-based recipes that are satisfying, nutritious and easy to prepare. designed by a nutritional expert, each day includes proper macronutrient proportions, adequate micronutrient intake, and a healthy selection of fat sources.
once you are in the throes of plant-based keto, there are so many great health benefits to enjoy:
• significant weight loss
• mental clarity
• improved insulin sensitivity
• improved blood lipid levels
• the ability to absorb fat-soluble vitamins
• regulation of inflammation and increased immunity
eat plant-based meals, burn fat for energy, and lose weight in just 28 days.
peckish? here's a couple of team nuut's favourite snacks from the new meal plan.
Ingredients:
225ml plant-based mayonnaise
What to do:
1. thaw spinach and remove excess liquid. chop up spinach finely.
2. mash avocado in a small bowl. stir in mayo.
3. add spinach and remaining ingredients. mix to combine.
4. chill in the fridge for at least one hour before serving.
serve with nuut seeded crackers. recipe available when you purchase the plan.
1 g carbs/ 2g protein / 31g fat

cinnamon chia pudding
we tinkered with the classic chia pudding recipe, making it keto-delicious for breakfast or dessert.
Ingredients:
2 tbsp black chia seeds
1 cup unsweetened almond milk
1 tsp cinnamon
1 tbsp coconut yoghurt
6 x walnuts – chopped
1 tbsp blueberries – fresh or frozen
What to do:
1. mix chia seeds, almond milk and cinnamon in glass jar.
2. cover and refrigerate overnight for at least 4 hours.
3. serve with yoghurt, walnuts and blueberries.
serves 1
297 calories
7g carbohydrates / 8g protein / 24g fat