we added collagen to our nuut and this happened…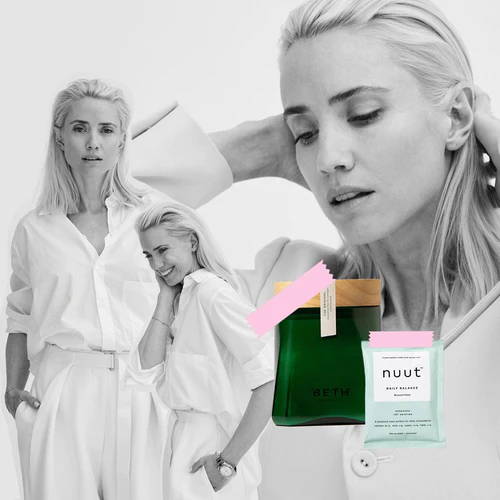 naturally, here at hq we love a good supplement and are always on the look out for a hard-working addition to our daily nuuts. it's hard not to be curious when a new product lands on our desks, but there are only a few products that have stayed in our rotations because, well, they work!
our latest obsession? By Beth, 100% australian hydrolysed collagen that stimulates and provides the building blocks for the formation of collagen for a beautiful dewy complexion.
combined with nuut's effective skin-loving ingredients, like supergreens, complex b and c vitamins and beta carotene, just one teaspoon a day in our nuut and, is it just us, or is our skin seriously lit right now?
because we are seriously addicted, we grilled founder beth levis on everything there is to know about ingestible collagen.
Scroll to the bottom for our favourite way to combine nuut x By Beth. Our chocolate collagen smoothie is seriously delicious, and your skin will love you for it.
nuut (n): beth why do we need to be adding collagen to our daily regime?
beth levis (bl): collagen is the most abundant protein in the human body. when it comes to beauty, it provides the skin with structure, strength and elasticity. in young skin, collagen makes up 80% of the dermal layer. as we get older, we break down collagen faster than we can replace it, leading to visible signs of ageing such as wrinkles. starting in our 20s, we begin losing about 1% of collagen each year. by incorporating a high-quality and natural collagen supplement into our beauty routines, we're able to boost the body's levels of collagen.
(n): how does by beth work exactly?
(bl): skincare products work on the outer layer of the skin (the epidermis) but seeing as the skin's role is essentially to act as a shield from the external environment, there's only so far topical treatments can go. by beth increases collagen production at a cellular level. when you ingest by beth hydrolysed collagen, its first destination is your small intestine where it is absorbed into your bloodstream in the form of small collagen peptides and free amino acids. through your network of blood vessels, these collagen peptides and free amino acids are then distributed throughout your body, to the dermis (the layer of skin that lies below the epidermis), where it has been proven they can remain up to 14 days. hydrolysed collagen acts in two different ways in the dermis: it both provides the building blocks for the formation of collagen and it stimulates the production of new collagen.
(n): what are the ingredients used in by beth?
(bl): our formulations use 100% australian bovine collagen sourced from grass-fed and pasture-raised australian cattle, managed according to australia's strict farming standards. we feel comfortable knowing we have complete visibility over our supply chain and can vouch that our collagen is clean, premium, and local. two of our flavours - wood & spice and fruit & floral - feature the bovine collagen alongside native australian botanicals, packed full of naturally bioactive compounds and powerful antioxidants.
(n): what benefits can we expect?
(bl): clinical evidence shows that edible collagen improves skin physiology and appearance after a matter of weeks by increasing hydration, elasticity, density, and firmness while reducing signs of ageing, wrinkles, and roughness. edible collagen is also proven to increase nail growth and reduce brittle nails, while also providing amino acids that increase hair thickness, growth, and shine.
(n): what is the best way to use?
(bl): aside from the benefits, it's so easy to incorporate into your existing beauty routine. simply add 1 teaspoon to 250ml of your preferred liquid of choice and take 3-4 serves per day. all of our formulations blend beautifully with hot or cold liquids. you can also try collagen loading, if you're new to collagen or planning ahead for a special event, to boost your body's collagen supply over a short period of time. this simply involves increasing your daily dose to 4-5 serves per day for 2-3 weeks, before reverting back to the usual dosage for ongoing maintenance.
(n): how did your own journey lead you to discovering the benefits of ingestible collagen?
(bl): i've always taken a very natural and holistic approach to wellbeing, which is what drew me towards edible beauty. when i first started using collagen, i noticed the difference within weeks, yet i couldn't find a brand on the market which ticked all the boxes – natural, sustainable, luxurious, local – so i set out to create my own. after using by beth, i can say that a lifelong struggle with recurring skin conditions have all but disappeared and, after four pregnancies, my chronically brittle hair and nails are in the best condition they've ever been.
(n): how did you get a handle on the science behind supplementation?
(bl): it has been truly fascinating learning about the science behind supplementation. using ethical, local, and premium ingredients, we have created an edible beauty line that celebrates nature while being firmly grounded in science. in a beauty landscape characterised by misinformation, convoluted ingredients, and clever marketing, our first step was looking at the clinical evidence in developing efficient formulations that deliver real results. we have referred to clinical studies and extensive research to carefully select evidence-backed ingredients that boost beauty. we use cutting-edge technology (collagen hydrolysis) combined with superfoods (native botanicals). the result is a range that brings together the best of science and nature.
(n): what is your skincare routine?
(bl): i am very simple with my topical skincare routine. i cleanse, use a serum or oil followed by moisturiser, and finish with a sunscreen during the day. internal health is much more of a focus for me, because i believe that your skin holds up a mirror to what's going on inside. i choose foods that are hydrating and high in vitamin c and omega−3 fatty acids. i'll always reach for leafy greens and berries for their antioxidant properties.
(n): what other foods do you try to incorporate into your diet daily routine?
(bl): my daily diet includes green juice to re-alkalise the body, lots of water, and foods high in vitamin c and omega−3 fatty acids. when it comes to supplements, i take pre and probiotics, kakadu plum for its vitamin c content, coq10, and zinc and vitamin d for their impact on the skin and overall wellbeing.
(n): how important is sustainability to you?
(bl): on both a personal and business level, sustainability is really important. i was born in the northern territory and raised on magnetic island, so i've always felt a strong connection to nature and the australian landscape. each aspect of the brand has been contemplated through an environmental lens – from the ingredients our formulations use, to the boxes they arrive in. the signature by beth vessel is plastic-free and made from glass and wood, designed to be refilled time and time again with your favourite formula. our packaging suite uses fsc certified paper and soy-based inks.
(n): why do you think by beth is striking a chord with consumers?
(bl): while the events of the last 12 months have been incredibly challenging, they've also provided a moment for reflection and contemplation. with international travel all but on hold, we've been forced to look inside australia and appreciate what's been here this whole time. whether it's our gorgeous beaches and rainforests, amazing native plants or world-class creative talent, australia is such a unique and special place. by beth aims to celebrate all that is australia and this resonates with our consumers.
(n): how do you balance running your business with a young family?
(bl): as mothers, we become notoriously good at multitasking and working on the run. i work from a computer during school hours and from my phone outside the dance studios or soccer fields. family always comes first but technology makes it easier for me to multi-task.
chocolate collagen smoothie
nuut x By Beth
a delicious chocolate shake that combines the ultimate in skin-loving ingredients. shake, sip and you're good to glow…
1 sachet or 2 scoops nuut (any blend)
1 teaspoon By Beth
350ml water
½ frozen banana
1 teaspoon organic almond butter
ice
combine ingredients in blender, blitz, and serve.