we tried the nuut paelo diet and here's what happened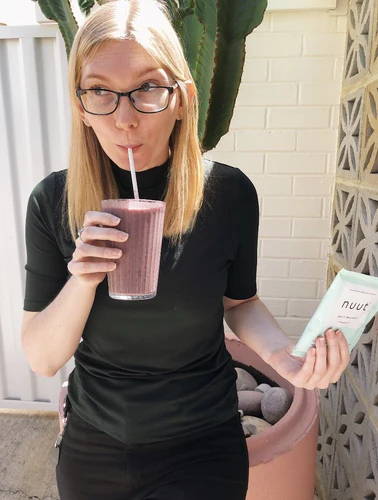 nuut helped put 2020 behind us, and kickstart a brand-new year.
It's been a rough year. Ready to start afresh? Nuut's Operations & Customer service guru, Caris and partner Mark did. Looking for a way to lose weight healthily (and keep it off), sleep better, and feel more energised, they decided to trial nuut's new paleo meal plan.
"I volunteered us!" laughs Caris. "Mark is an avid hiker and basketball enthusiast, and I practice Pilates three times a week and walk our dogs daily. We both work full-time, so needed a meal plan that was easy to follow and slots effortlessly into our busy days. We found it!"
And the result?
Spoiler alert: a combined loss of 3.1 kilos in just one week, solid sleep, and enough energy to maintain their usual exercise routines…..
Here's how they did it.
Sunday – day 1
We kickstarted the plan with delicious fluffy banana pancakes. I slightly undercooked them, so they were more pudding than pancake. Mark took his to-go and packed a nuut sachet for lunch which is super convenient as he was out hiking. Just add water!
I had a nuut blitzed with cold water for lunch, and made creamy zoodles for dinner which are delicious. I didn't feel hungry at all during the day and nearly skipped today's snack - avocado chocolate pudding. I saved it instead for dessert. It's so more-ish and rich, and exactly what we felt like.
As it was a rainy day, I decided to get organised for the week ahead, and cooked the paleo seed loaf and banana bread. Both are simple to make. For best results, I recommend covering with foil once it's looking lovely and golden, then continuing to bake. Yum!
Monday – day 2
For breakfast, we devoured avocado salsa toast (i used paleo seed & nut loaf). It was such a quick dish to whip up before heading to work. For lunch we had a nuut each. I had mine with water, and Mark blitzed his with unsweetened almond milk. We both felt completely satisfied – no hunger pains or cravings. Having said that, we were very excited to have banana bread as our 3pm snack! It tastes amazing and I didn't even miss the butter I would usually smother it in! As I had Pilates after work, Mark cooked the BBQ jackfruit stuffed sweet potatoes for dinner – tasty! We went light on the chilli powder as we're not keen on too much heat. It's so filling and delicious, but best of all, light, so we went to sleep feeling satisfied without that heavy feeling.
Tuesday – day 3
Today is hectic, so we are mixing up today's menu to make life a little easier. nuuts for breakfast and lunch, and banana bread as a snack. I felt a bit flat and tired this morning, which is to be expected when on a low-calorie eating plan, but I definitely picked up around midday. Maybe it was the thought of eating shepard's pie for dinner!
Wednesday – day 4
After an early morning Pilates session, I had banana bread on-the-go before heading to work. Today's snack is the seeded crackers and cauliflower hummus which was really good! Mark even loved it and he hates cauliflower. Dinner was coconut veggie curry, which is bursting with flavour and just the fuel Mark needed for a late basketball game. At this stage of the meal plan, I find I'm drinking a lot of water, which is great because I tend to not drink enough. My skin, by the way, is looking very glowy!
Thursday – day 5
This morning we had avocado salsa toast for breakfast, a nuut for lunch, banana bread mid-afternoon, and left-over coconut veggie curry for dinner. I think it tasted even better than last night.
Friday – day 6
Let me start by saying I haven't felt hungry all week – amazing! Today was a two nuut day so I felt satisfied until dinner. Tonight was BBQ jackfruit stuffed sweet potatoes again. It's Marks' absolute favourite. Whilst he washed up, I prepared chia puddings for tomorrow's breakfast.
Saturday – day 7
I practically leapt out of bed this morning! I can't remember the last time I woke up feeling more energised? I started my weekend with a jump Pilates class, then had my cinnamon chia pudding topped with fresh blueberries from my garden. Lunch was a nuut with ice and filtered water, and for dinner we had cauliflower steak and chips. The portions are big which feels just right for a weekend dinner.
Sunday – day 1 of our new life
This morning we jumped on the scales. Mark has lost 1.3kg and I have shed 1.8kg – yes! We are sleeping well, my skin still looks amazing, and we have lots of energy.
My best tip for going nuut paleo is to be really organised. Check your menu the day before to make sure you have everything you need, or make any changes necessary to suit your schedule.
Our favourite dishes, creamy zoodles, BBQ jackfruit stuffed sweet potatoes and the chocolate avocado mousse, are now part of our weekly cooking repertoire. I am committed to drinking 2 litres of water every day, nuuting religiously (naturally), and as a result, we have kept the weight off and are both feeling light, lean, rested and energised.
5 STARS from us!
click to shop the paleo bundle